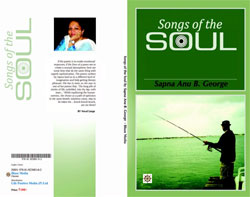 Songs of the Soul- The pangs of a poetic heart
b Review By Ambilikuttan Aravindakshan Nair (Indian Institute for Performing Arts,Managing Director & CEO-Professional Artist)
What I can say is that the title selected for this compilation by Sapna Anu B. George is so ideal, they are exactly songs of the soul. I could find the pangs of a poetic heart in it. Most of the poems has the touch of personal warmth and they sprang out of your heart forcefully. The writer is not in a position to restrain their outflow. In that way these poems do justice to the great definition of poetry as a spontaneous overflow of powerful emotions.
The Cover picture is photo taken by Sapna , in Duabi
When I delve deep into bSongs of the Soulb, I can find lot of very personal sensibilities that go at par with the sublime sense of oneness with society, with wounded hearts, with deprived or less privileged children. This mind actually gets ripened to produce the fire of poetic creativity and I could perceive it well in her style and approach to lifebs situations.
The craftsmanship being displayed in these poems also is remarkable according to my evaluation. The feeling to merge in the rapturous beauty of nature and an urge to relive the old cherishing moments is typical of an exact poetic heart that craves to find and explore its reason to be like this. The value attributed to a piece of bread served to a starving street child is indeed much more than empathy being felt by an individual who finds oneness with a deprived being and experience an in-depth emotion. This is a natural gesture of a poetic heart and also an inherent beauty of it.
Though emotions are felt by everybody, only poets can sublimate those feeling by correlating them with certain imageries like a Nymph that might be an embodiment of some sought after state of happiness. In fact this is a sort of running away from the mundane world often cherished by everybody but worded by poets. Pondering over the state of life and situations experienced in all its colorful nuances are indeed a solace to a throbbing poetic heart. But even celestial phenomenon also can inspire this fire of imagination.
Conscious hallucinations of angels turning humans and humans to angels that leads to the ultimate truth of life. From there it goes to the real world to the warmth of a fatherhood being experienced by a loving daughter, the spiritual kind of experience that cannot be replaced by anything when it is lost.
The poetic vision seen in this work sometimes ventures into even strictly personal realm also by reflecting the warmth and value of personal life and love, expectations and disappointments that normally accumulates in a life etc. But here the poems save themselves with good craftsmanship.But it further proceeds to the wishful thinking amidst lifebs toiling to get back the warmth of the bosom of onebs own mother and desperately longs for the comfort within that. Here everywhere you outpour your feelings in a most sincere way and they get transferred to the hearts of your readers. They experience the pangs of your heart. That is the success of Sapnabs craftsmanship.
The musings continue and venture into various situations and emotions that are food for a creative mind. I am not attempting here to comprehend the overall evaluation of the book bSongs of the Soulb in these limited words. My intention is to make you known about the feelings that got evoked in my mind on going through bSongs of the Soulb. One thing is quite obvious and that is Sapnabs poetic sensibility. That has got tremendous potential and Sapna has to keep this spirit vibrant for her to enable the creative fire to ignite. That will be beneficial to our Indo- Anglican Literature.
Hear me b&bSapna the person that i am, could not but simply covey my deepest gratitudeb&.bThank you so much for such response with so much positively. I feel appreciated. With a sincere, well-written appreciation ,you can make someone like me feel very special, feels great.
In fact i feel you focused on words of admiration, gratitude and recognition from my words of poetry.
Poetry, for me, seems like one of the final frontiers in expressing my feeling. As far as I know, poetry has been around longer than many other art forms and has been appreciated by many of the greatest intellectuals throughout history.Ibm not interested in learning to appreciate poetry simply to appear more intelligent. Ibm interested in poetry because, as Ibm sure you have discovered, that i have been benefited myself in expressing my own emotions of the soul.
Thanks again for your such profound words of appreciation.b
Being the Caption of his own ship of b Indian Institute for Performing Arts Kingdom of Bahrainb He clarifys further b&.by saying Dear Sapnab&b&b&.I am happy that my words truly inspired you. It is particularly written to you as I have seen a responsive heart in you that cannot hold its sensitivity from getting expressed. A skylark cannot hold its music without breaking its heart. That undiluted purity in expressing oneself need to be commended. I strongly believe that what I have done is only a social obligation especially when we are moving in a world with the vicious touch of tainted values all around. People are blatantly self centered. So this manifestation of a pure and innocent kind of self expression need to be evaluated positively and your style really deserves that. I didnbt fill that appreciation with hollow words or undue admiration. Whatever I expressed, you can believe that they came out of a sincere wish to see your name listed among the glittering names of our Indo-Anglian authors. Cuckoo sings not for worldly recognition but that musical shower inspires subtle emotions in several poetic hearts. That makes her musical rapture possible over the centuries, ever-vibrant non- defunctb&Let it carry onb&.
In line wiith Ambilikuttan nairs review of my poetry even Geeta Abraham Jose an author herself of the Book bBy the River Pampa i Stoodb writesb&b&..The review By Ambilikuttan is great and it makes me all the more anxious to grab a copy of Sapnabs poems at the earliest b&..Poetry is the spontaneous overflow of powerful feelings, thereby evoking intense emotions in the reader, be it love, pathos, blissb&.Ibve read many of Sapnabs poems and so Ibm sure this collection of poems would be as beautiful as a painting on a canvas where Sapna uses words to paint the image she wishes to portray
POEMS: Painting Emotions and Sensual Responses
A Review of Sapnabs poems by Naval Langa
Painting and poetry has one thing similar in them: they both are coming from the heart of a person. Here is one review of a poem by the poetess who writes from bottom of her heart.
A JOURNEY IN THE FATHERLAND (Review by Naval Langa)
If the poetry is to evoke emotional responses; if the lines of a poem are to create a sensual atmosphere; here are some lines that do the same thing with superb sophistication. The poems written by Sapna lead us to a different land of imagination and help getting literary pleasure. She has in store, as she says in one of her poems that, bThe long pile of stories of life, unfolded, into thy lap, with tearsb&b While explaining the human sorrows, she shows us a path of optimism in the same breath: solutions came, step to be taken forb& knock knock knock, are we there?b&
Poetess Sapna George believes, and tries to establish too, that bwithout leap of imagination, or dreaming, we lose the excitement of possibilitiesb. She does not limit her possibilities; she took the help of images to transmit her emotions into the words. Here in this poem she has taken bFatherb as an image to reveal what she has in her mind, as she says about her father that: he never left my hand for a moment, ever since I was born. In these lines of her poems, she lets her lifelong memories to escape and fly in the sky of love and reverence. See, how she longs for her father; how she misses his presence:
Never did he forsake me, in life,
Never for moment, never for a day,
Always beside me when I needed the most,
A POEM by SAPNA ANU GEORGE.
Days go past us winds of season,
Never gone past the days and years .
Get stuck in some ear and age
That engulf us like mirages in deserts.
One such mirage is my Dadb in my life,
Always in front of me, waiting for me,
Yet I never reach there in time be near,
So near to me yet so far away.
Never did he forsake me, in life
Never for moment, never for a day,
Always beside me when i needed the most,
A dear friend, a true companion, a great dad.
Human mind takes support of images while conveying messages to others. It is usual for a poet or an artist to use this mechanism of using extended images. Once the artists or a poet enters the larger scale of imagination, the world is much wider for him or her. In this poem, the Indian poetess, Sapna George has tried conveying a message, packed with emotion and reverence.
For us, the humans, especially for the women, a father is a pivotal figure in the world of emotion. Hardly a woman misses to remember her father, as he is the person around whom she has erected a tower of hopes; under whose eyes she has built a castle for security. This feeling leaps out and takes the form of the words like b&b&b&..
bNever did he forsake me, in life
Never for moment, never for a day
Always beside me when I needed the most.b
Poets often use particular forms and conventions to suggest at alternative meanings in the words: the images we use to convey our feeling are in a way the alternative meanings we have given to the situation, or the flow of our bubbling emotions within. To take the bFatherbs loveb as imagination is not new in the world of literature; most of the narration in Bible roams around this one word b bFatherb.
In her above poem, Sapna George has poetically arranged the metaphors in a beautiful manner. She has assembled the related metaphors that are completely compatible to each other, or similar in temperament. It creates harmony between the words and the images. Look at these lines:
One such mirage is my Dadb in my life,
Always in front of me, waiting for me,
Yet I never reach there in time be near,
So near to me yet so far away.
The poetess has knitted an embroidery of beautiful words here. Feeling of loss is the inherent current in these lines; all the words put in a sculptures queue fashion radiating the feeling of permanent shortfall in life. Every loss presupposes the absence of assured gain. From a father figure we receive many help, in the form of physical things and emotional support. He is the figure that tries to shape our life in a better way. Journeying on the land of memories of her father the poetess says:
He suggested, the best books for me to read
But never pushed them into my hands.
The journey with our father never ends; death is a minor separation. But once the father figure departs for a reason, goes away from us, he enters the larger scale of our imagination. Instead of remaining a name of the greatest relationship, the image of father becomes the controller of all our ideas and emotions that pass through the wonderful land of our mind, our stream of thoughts.