Posted on
Format
Aside
Categories
Food & Health
Leave a comment

on Pineapple SoufflC)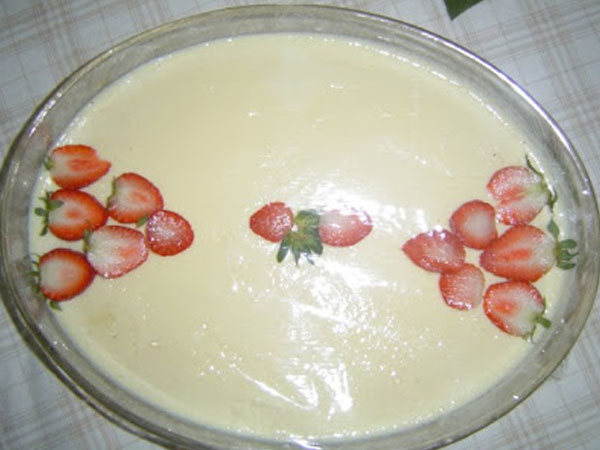 Ingredients
1. Egg-3
1. MilkMaid-1 tin
2. Milk b 3 (tin of Milkmaid)
3. Vanilla Essence-1 Tsp
4. Gelatine -20 Gram
5. Pineapple- 500 Gram
6. Sugar b 3 Tbls
7. Cloves- 4 Nos
To Decorate
1. Pineapple/cherry pieces
2. Fresh cream
To make the Custard
Cut the pineapple into small bite size pieces. Stew the pineapple with sugar and cloves till it begins to caramelize. Place them on a flat dish and press them down, where you set the soufflC).
To make the soufflC) custard, beat milk, milkmaid and eggs together and double boil, till the custard starts to thicken. Let it cool. Add socked gelatine and pour it slowly over the side of the dish with out moving the flat pressed pineapple under the dish. Let it set and serve after decorating with cherry and fresh cream.
Posted on
Format
Aside
Categories
Food & Health
Leave a comment

on Full Chicken RoastbKerala Style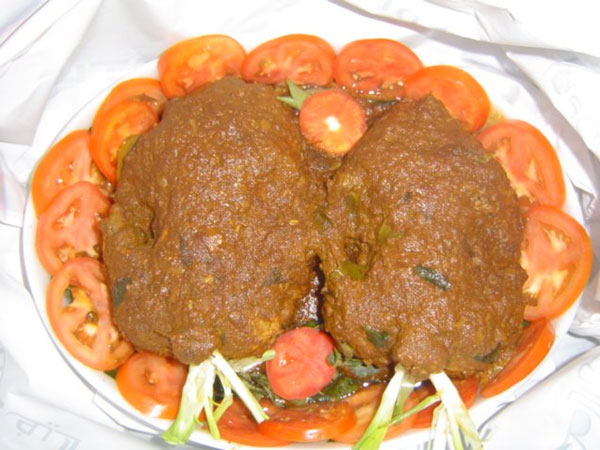 A Noteb&.Before you start,a few tips on Chickenbthough the meat does not contain much fat unlike popular concept. If you remove the skin and use less of the leg portions ,you are avoiding the fat portions.By removing skin you are not actually using any fat at all.Fat content in chicken are mostly concentrated on legs only.
Ingredients
Chicken b 1 (remove the skin only)
Coriander powder b 11/2 Tbsp
Red chilly powder b 1 Tbsp
Black pepper b 1 Tsp
Ginger paste b 1 Tbsp
Garlic paste b 11/2 Tbsp
Garam masala b 1 Tbsp
Turmeric powder b 1 Tsp
Curry leaves b 2 big stems
Salt b To taste
Onions(medium) b 2 nos
Coconut oil b 1/2 cup
Coconut Milk b 1cup (Important to get the bkeralab taste)
For Stuffing
1. Potato b 2 Nos cut into long wedges
For Garnishing:
1. Tomato (medium) b 2 nos (cut into wedges or round slices and fried)
2. Onion Rings 1 nos
Preparation
Skin the chicken, cut small gashes, marinate with salt and red chilly .Heat half a cup of oil cook the full chicken till it turns brown on both sides. Keep aside to cool.
In a deep vessel, add onions sautC) them until they are transparent. Lower the heat and add the ginger/garlic paste, peppercorn (whole or crushed) and sautC). Make a paste of the coriander powder, chilly powder, garam masala, salt and add them to the onion mixture and sautC) them until the oil separates.
Stuff the chicken with potato wedges and few spoons of masala. Return the stuffed chicken back to the vessel and add coconut milk and cook on low fire, until the milk and masala thickens. This should take about 15 minutes. Lower the flame and keep it for another 5 minutes more for the coconut milk and masala to coat the chicken completely.
Garnish with coriander leaves/Tomatoes/Onion Rings
Posted on
Format
Aside
Categories
Food & Health
Leave a comment

on Palappam White Egg Stew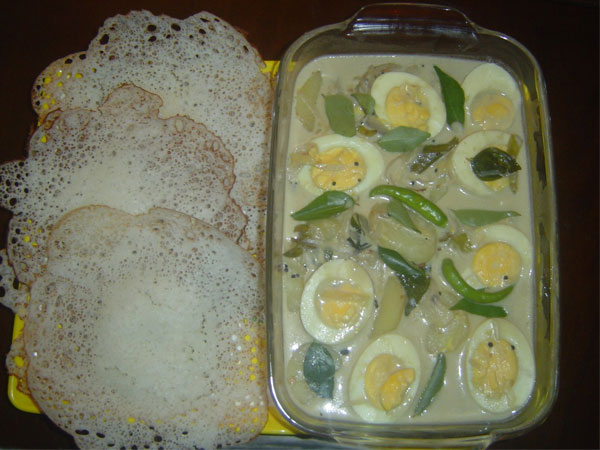 Egg Stew(serves 4)
Boil 4 eggs, de shell and cut into 2 portions
Ingredients
1.Onion 2- sliced thin ,lengthwise
2.green chilly-4 slit in middle
3.ginger-1/2 inch thin log slices
4.garlic-2 piece thin long slices
5.whole spices-2,cloves,2 cardamom,1 piece bay leaves
6.pepper-3 crushed
7.curry leaves
8.salt-to taste
9.coconut oil- optional you can use any oil
10.coconut Milk- 1 1/2 cup of thin milk and 1/2 cup of thick milk
11.potato- 1 cut into small cubes
12. carrot- half carrot cut into small cubes
Preparation.
Heat oil in a pan and add the whole spices including crushed pepper,add onion and sautC) till they are transparent. Add the ginger garlic,green chilly and curry leaves and sautC) again. Add the potato and carrot cubes and add the bay leaves too with 1 1/2 cup of think coconut milk and adjust your taste with salt.Cover and cook till the potato and carrot is cooked .Remove from fire and add the thick coconut milk and give it soft stir to mix it up and add the cut wedges of egg slowly with out braking and serve in good glass dish and garnish with green curry leaves.
PALLAPPAM (Crisp Laced Rice Pancakes)
Its traditional dish, a type of bread made with rice flour and always made on special occasions and for special people.The excerpts and a similar type of dish is available in Ceylon(Srilanka) A typical Syrian Christian food. Itbs still served in Christian families for breakfast and for dinner as well, since the ready to make batter is readily available on stands now. It has also developed appeal among other peoples of Kerala too, and is regularly served as a starter for lunch and dinner.
Ingredients
Rice Flour b 1 cup
Dry/or fresh coconut grated- 3/4 cup
Water b 1/4 cup
Yeast b B< tsp. Sugar b 3 tbsp Thick coconut Milk b 1 B= to 2 cup Salt b B< tsp. Method: b" Sugar lukewarm water and yeast should be combined and left to cool, till it becomes frothy b" Mix together remaining ingredients, beat in a blender for 2 minutes.(The batter should have a almost smooth,yet little rough consistency) add the yeast and run for another 1 minute. b" Cover the bowl and prove for 6 to 8 hours . b" Need to loosen the consistency, add 1/2 cup coconut milk b" Heat an bAppamb pan, ladle B< cup of the batter into the centre of the pan b" Lift the pan and swirl the batter a little bit toward the edge of the pan to get a thin layer of batter. b" Cover the pan and cook, edges ought to have a golden brown crust b" Serve with stew or egg roast